How to Approach Dryer Vent Replacement
10/11/2016
Back To Blog
With a proper dryer you don't have to worry about hanging the laundry outside to air dry (and to possibly get dusty and dirty in the process). This appliance is invaluable, but it needs proper maintenance to work effectively and safely. Regular dryer duct cleaning is crucial. Even with it, however, the vent should be replaced eventually. Discover some advice on how to get the best new exhaust system.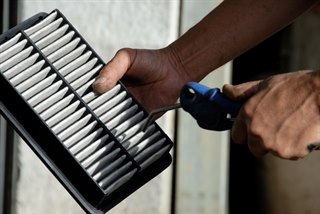 A High-Quality Air Duct Is a Must
There are four types of dryer ducts and they are quite different. The plastic ones are flexible (easy to fit in any space) and inexpensive. However, they are not particularly strong and are prone to cracking and air leaks. Since they are ribbed, they tend to hold more lint so they have to be cleaned more often. Their biggest disadvantage is that they will burn in case of the dryer going on fire. That is why you should try to stay away from the plastic models in case of dryer vent replacement.
The aluminum foil vents are slightly stronger and less ribbed compared to their plastic counterparts. They are also quite flexible. Overall, they are slightly better, but definitely not the best option. In fact, the rigid metal ducts take the top spot in this category. They are extremely durable and can last for many years to come. You should not worry about frequent dryer vent repairs. They are also the easiest to clean. The problem with them is that they can be installed only in places where there is sufficient space. The alternative is to get semi-rigid metal vents which are more flexible.
Choose the Most Reliable Cap
The louvered caps do a good job, but they may pose the need for more frequent exhaust system cleaning. The hooded caps with a mesh guard offer better shielding from environmental pollutants. No matter which design you go for, it is best for the cap to be made from aluminum. This will give it a long useful life as it will be completely resistant to damaging effects of the elements. The plastic models, on the other hand, are prone to cracking and breaking when they are exposed to UV light for quite some time.
Remember that in addition to air duct cleaning, you will have to take good care of the cap as well.